Footings, Retaining Walls and Foundations In
Medford
Oregon
If you are building a new home, garage, shop or shed we can help you with pouring the foundations and footings.
All of our foundations and footings are poured in place or we can also build them with block. This will depend on the engineering and or personal choice.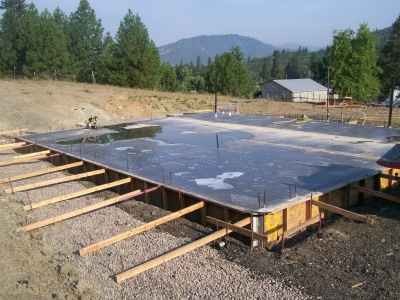 We also build retaining walls. Our retaining walls can be poured in place or they can be block as well. Again this will depend on the engineering requirements and or personal taste.
If the retaining wall is poured in place we can give it a variety of finishes which could include broom swept, smooth or exposed aggregate. We can also add color and natural or cultured stone.
A lot of times the footing, retaining walls and foundations require engineering. We have an engineer that works with out company.
If you need a foundation, footing or a retaining wall in Medford give us a call. We also service the rest of Southern Oregon from Klamath Falls to Brookings and everything in between.
Give us a call to talk about your project or for a free and fast bid. We look forward to hearing from you soon.
Call us right now at 541-973-3308
Thanks
Brian Millett