Outdoor Kitchens
Medford
Oregon
Want To Build An Outdoor Kitchen In Medford, Ashland, Grants Pass or Anywhere Else in Southern Oregon?
Our outdoor kitchens can be built on site as a permanent fixture in your backyard. Or we can build them in our shop and delivered and installed.
A permanent kitchen is built out of block and will incorporate all the fixtures you choose. Spaces for refrigerators, storage, sinks, blenders, outlets and anything else you want. It is really only limited to your imagination and budget.
The exposed block can be finished with a variety of finishes. Stucco, stone and brick veneer are all really common options.
You also have a variety of choices with the countertops as well. You can choose from concrete, tile, slate or granite.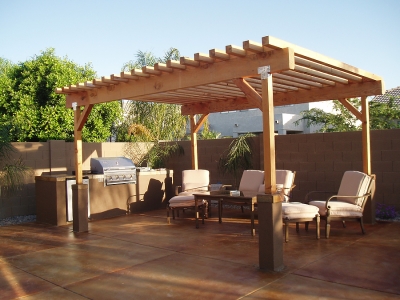 Our outdoor kitchens that are built on-site can be as large as you want them to be and can incorporate any feature you want or can imagine. Some ideas for you are fireplaces, benches, entertainment centers etc. We can even build a roof or gazebo over the entire kitchen.
Our kitchens that are built in out shop are smaller due to limitations of weight. They are also much more simple. However, they can be easily moved around the patio or deck.
They are built with metal studs and are faced with concrete board. The same finishes are available which are stucco, stone, or brick veneer. The options for the counter tops are the same as well.
Finally don't forget about placement of your kitchen. The person cooking needs to interact with guests and family.
Give us a call and let's discuss your outdoor kitchen project. I can offer tips, suggestions and ideas so you get the perfect outdoor kitchen you have always dreamed of. We build outdoor kitchens in Medford, Ashland, Grants Pass and everywhere else in Southern Oregon. We can also build outdoor fireplaces and fire pits too.
Call us right now at 541-973-3308
Thanks
Brian Millett