Water Proofing and Sealing Concrete
Medford
Oregon
Water proofing and sealing is extremely important for any type of cement product. Patios, foundations, sidewalks and retaining walls all need to be protected to get the longest life out of them.
Keeping water out of the substrate will give a longer life to the cement. Directing water away from a structure keeps the soil dry and lessons the chances of structural movement.
Water Proofing Walls and Foundations – The system we use to water proof walls and foundations is superior to any other method out there.

We use a rubber membrane that goes over the entire wall and over the footing.
Next we install a drain board to the wall that goes over the membrane. The drain board goes down and sites on a 4" perforated drain pipe.
The drain pipe wrapped in a filter and is covered by 1 1/2 " drain rock.
We then back fill over everything.
This process should be completed on basement walls and retaining walls.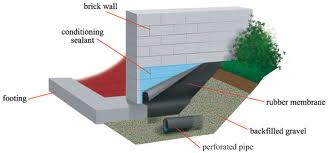 Sealing Concrete –
It is crucial to seal concrete. Sealing your concrete protects it from rain, snow and other elements. Concrete absorbs moisture. If this happens during a time when freezing conditions occur the top surface could fracture and pop loose.
Concrete with an exposed aggregate should most definitely be sealed. This is because the top layer of concrete has already been opened up to expose the aggregate allowing moisture to easily absorb deeper into the concrete.
Another reason for sealing concrete is to help prevent stains as well as allowing it to be cleaned easier.
Our process of sealing concrete is to pressure wash the slab, patio, sidewalk etc first. Then apply an acrylic sealer. If we are the ones who poured the concrete this is the final step we perform after it has seasoned and cured.
Give us a call today at 541-973-3308 and lets discuss your project. Or call us if you want a fast and free bid.